CREATED WITH EXPERIENCE FROM OVER 90 000 SERVICE BIKES
We believe too many riders wait for something to break down before showing their bikes some love. There's a better way to ensure riding your bike is safer and more fun while maintaining the value of your bike. Just like cars, bikes have lots of parts that wear out over time. Regularly ensuring everything is working as designed is key to making your biking experience fun and safe.
With decades of experience in bicycles, we have maintained over 15,000 bikes through the 12-step Yeply Seasonal Maintenance service. We have spent years with engineers and bike manufacturers perfecting and fine-tuning our craft, to ensure these are exactly the 12 parts of your bike that need regular care.
Booking the Yeply Seasonal Maintenance couldn't be easier. Check out when our maintenance van will be in your neighborhood, drop off your bike, and pick it up the same day. All booked online, and you keep your Yeply digital maintenance book as proof of value for your bike.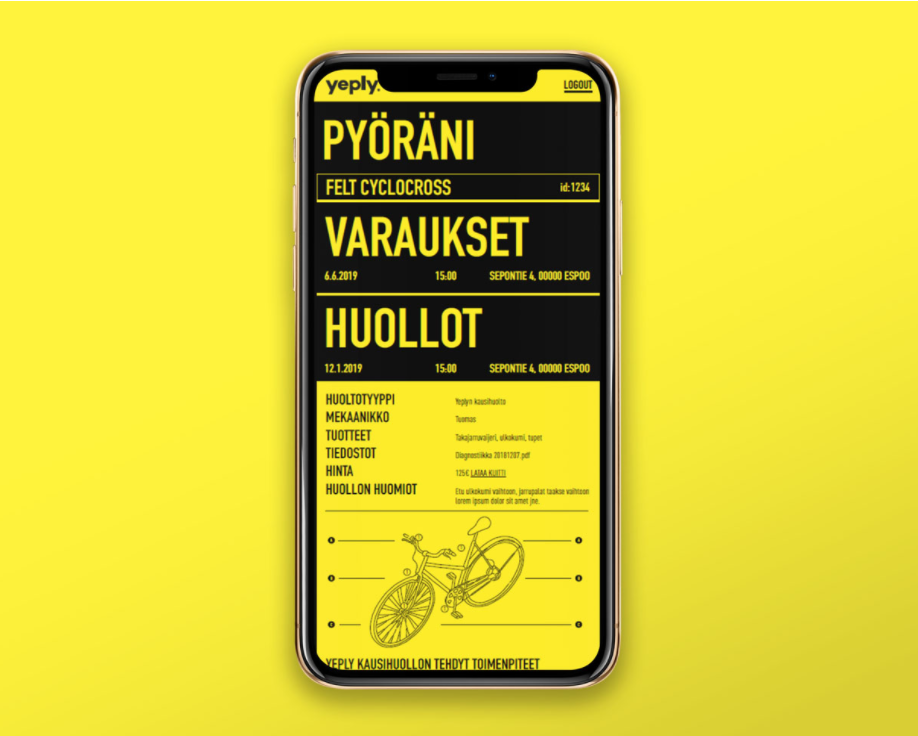 WHAT IS INCLUDED IN YEPLY SEASONAL MAINTENANCE
1️⃣Vaihteiden säätö 2️⃣Jarrujen tarkistus ja säätö 3️⃣Vanteiden suoristus 4️⃣Napojen tarkistus ja kiristys 5️⃣Ohjainlaakerin kiristys 6️⃣Kampien tarkistus ja kiristäminen 7️⃣Keskiön tarkistus ja kiristäminen 8️⃣Polkimien tarkistus ja kiristys 9️⃣Kaikkien ruuvien kiristäminen ?Renkaiden täyttö ja tarkistus 1️⃣1️⃣Ketjujen öljyäminen 1️⃣2️⃣Pyörän koeajo
BENEFITS OF YEPLY SEASONAL MAINTENANCE
 More fun – Your bike works like it was designed to be safer – Regular inspections ensure your bike is safe to ride. More value – Your bike maintains it's value better. Peace of mind – We believe you will ride more when you know your bike works
WE CAN'T SOLVE ALL BICYCLE ISSUES – UNFORTUNATELY
Our business is mobile, and is operated from vans to be able to bring the Seasonal Maintenance service to your neighbourhood. Our vans carry an extensive inventory of bike parts, but there are certain things our engineers won't be able to solve. If your bike has extensive repair needs, please contact us before your booking to ensure we don't disappoint you.
.
READ HOW YOU CAN GIVE YOUR BIKE THE LOVE IT DESERVES!